Color Consultation - Healthcare & Pharmaceutical Products
Color has symbolic power in pharmaceutical products and healthcare. It manipulates, demonstrates, and stimulates. Whether you're just starting product development or looking for professional advice on preliminary concepts, we'll help you maximize the power of color.
Color Consultation

About color and brand identity in the pharmaceutical & healthcare industry
Competition in the pharmaceutical industry is robust. The shift in priorities toward marketing means that color is now a critical component of brand development and product identity. This requires that the colors be researched and tested, a little like the drugs themselves. Nothing can be left to chance – and this is where we offer a unique offering of services. Here's how:

First, we identify the most successful colors for a pharmaceutical product with extensive statistical data from our Global Color Database of over 100,000 people worldwide. Up-to-date information about consumer color preferences within any specific demographic groups can be readily accessed.
Colors communicate differently to men and women. There are also generational differences. For example, we're able to pinpoint the colors that are perceived to be powerful by American males ages 35-44 with statistics from the database. Alternatively, we're able to assess the symbolism of any given color, such as orange, per parameters such as age, gender, and nationality.
Second, we focus on functional color designs – colors or color combinations that help consumers identify pills and pill dosages, thereby eliminating medical errors.

Third, we develop aesthetically pleasing color designs for the actual product, the packaging, or the advertising material.
---

About our clients in the pharmaceutical and healthcare industry: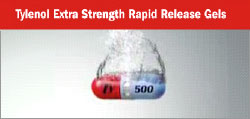 We developed the current colors for "Tylenol Rapid Release Gel Capsules" and provided color designs and demographic data for other medications.
Our head designer Jill Morton was featured in Lifescan's video for the launch of the "One Touch UltraMini Meter" for diabetes.
Although we are currently bound by confidentiality agreements, our portfolio also includes numerous healthcare devices and color design for advertising and aid materials.
---
Download the Portfolio and Press Kit of Colorcom head consultant Jill Morton.
Jill_Morton_Colorcom_Presskit.pdf